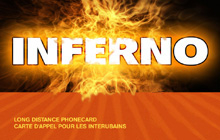 Great Rates To Many Destinations
One Minute Rounding
Long Call Duration Valued Card
Some In Call Fees Apply
Best For Longer Calls
EXPIRY INFORMATION: Product PIN will expire 180 days after the first call
Per minute rates for Inferno
Terms & Conditions
Billing is based on one minute increments. Calls may be rounded to the next subsequent full minute.
Rates subject to change without notice.
A currency exchange surcharge may apply based on Canadian dollar foreign exchange rates.
A destination surcharge of up to 60% may apply.
A service fee of up to 50¢ applies.
An interval call fee of up to 20¢ per interval may apply.
A fee of 5¢ per minute may apply on toll free calls made from the United States.
A surcharge of 75¢ applies when using the toll-free number from a public payphone.
An additional charge of 1¢ per minute/per call applies when using a toll free access number.
A maintenance fee of 12¢ applies daily.
An in call fee of up to 50% of the base rate may be charged based on the destination called, time of day, duration of the call and the access number used.
An in-call network initialization charge up to a maximum of 50% of the face value may apply to the 1st call.
Calls can be placed only from Canada and continental USA (excluding Alaska & Hawaii).