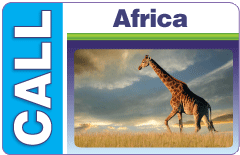 CALL Anytime, Anywhere, for Any Length of time & Pay for Only the Seconds You Use!
BEST CARD FOR those who make frequent calls of different durations and want value for every second they use.
100% THE BEST VALUE: With SINGLE SECOND BILLING and NO FEES you might pay a higher per minute rate but in return you have a Guaranteed Value all the time and still SAVE MONEY!
NO ADDITIONAL FEES! (When using a local access number)

NO CALL FEES at the start of your call, during your call or at the end of your call.
NO Weekly or Monthly maintenance fee EVER.

EXPIRY INFORMATION: Product PIN will expire 180 days after the first call
Per minute rates for CALL Africa
Terms & Conditions
Billing is based on 1 second increments. Calls will be rounded to the next full second.
Rates subject to change without notice.
A fee of 5¢ per minute applies when a card is used from the 709 area code outside St. John's, NFLD, and from some 450, 418, and 819 independent carrier area codes in Quebec.
A fee of 10¢ per minute applies on all calls to the 867 and northern 250 area codes.
A fee of 25¢ per minute will apply when a card is used in area codes 867, 907, and northern BC.
A surcharge of 75¢ applies when using the toll-free number from a public payphone.
An additional charge of 1¢ per minute/per call applies when using a toll free access number.
Calls can be placed only from Canada and continental USA (excluding Alaska & Hawaii).